Steven van der Haghen in Andalucia, 1575 - 1578.
Translation into modern English of a fragment from the autobiography of VOC Admiral Steven van der Haghen, written in XVI century Dutch between mid-1608 and august 1611

About 3 or 4 days thereafter, in the month of october 1575, the wind turned to the east so they raised sail and arrived 28 days thereafter, in the month of november, [at] Saint Luicas [= Sanlucar de Barrameda]. Once ashore the boy was ordered to work for 2 years with Captain Jan Heinsen who was a lindraper [note 1] and had a nice shop. The merchants continued to Sevilien (Sevilla) where some of them lived and left the boy with his master, who was a gentle person, but he had a very mean wasp of a wife, impossible to get along with. She did nothing but quarrel and fling so the boy did not have the patience to stay there for the full 2 years. He remained until around Whit Sunday 1576, having learned enough Spanish to get around and look for another master and started the journey to Sevilien. Arriving there, he wandered around along the streets and passed a big merchant shop. In the door opening stood one of the merchants who had commanded him to work for 2 years in Saint Luicas with that master. He recognized him and sent his servant after him who said: boy, you should come see that merchant who stands over there in the door. The boy who perfectly knew what he would ask him, told him that he had come with his master for which he had done some shopping and that he would come back after having rejoined his master. Realizing he would be given a lecture, he decided at once not to remain in Sevilien, but to take the road to Xeres [Jerez] de la Frontera and continued his way asking for the Xerez gate which was pointed out to him. He continued, arriving in the evening at an inn held by a shepherd, who lodged him in a hut. His evening meal consisted of goatmilk, bread and fresh cheese. Next morning, after having thanked the shepherd for all the good things, he continued his way until he arrived in the city of Xeres, where he came to live with a rich Cavallero or Knight, called Don Garcia Davila.[note 2]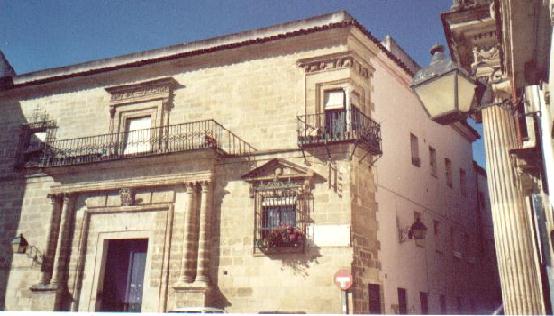 Palacio Davila, XVIth century, Plaza Benavente, Jerez de Frontera;
This might [see note 2] be the place where Steven van der Haghen lived from mid-1576 untill mid-1578. Only the faįade is authentic, hiding an almost completely new building (photo taken in april 2000, R.v.d.Hulst)

He was very well there, treated as one of their own children and lived there for 2 years until 1578, when the King of Portugal Don Sebastian arrived in Calis [Cadix, Cadiz] with an important armada heading for Barbary [note 3]. Calis and Xeres being only 4 miles apart, the boy would not longer stay in Xeres but had to be in Calis. [added in the margin:] asked his master permission to go in order to see everything in Calis, telling him he would come back and so got permission.
Now about 15 years old, he had already decided to sail to Barbary. Arriving in Calis he was dissuated to travel to Barbary, being told it was very hot over there and he would suffer also from hunger and thirst and meet many more difficulties. So he stayed in Calis and served in a Dutch [note 7] household. He saw King Don Sebastian [note 4] several times with the complete armada and also the bull chases on the market, Juego de caņas, which is a skirmish on horseback, throwing long Spanish rods at each other which they fend off with their adargas, which are big leather [note 5] shields. Well, it's nice to see. He also saw Don Sebastian, the King, raising sail with the beautiful armada, which was a sight to see.
But the King had not been gone for long, or the bad news arrived that Don Sebastian with his complete armada had been beaten by the Moors. Shortly thereafter, empty Dutch ships came back, which had served the King over there and repeated the same story. It was true that the King of Portugal with the whole army had been defeated, which caused great sadness and fear among all who worried that the Moors would pursue their victory and set upon Calis.
The Dutch ships returning from Barbary had many sick among their crew. It was the red flux [note 6], which killed many. In the house where the boy lived 8 or 10 sick dutch skippers were brought, who were very ill and the housemaster wanted them to confess and to receive the last sacraments before dying in order to avoid problems [note 7] with the Inquisition. However they did not speak Spanish and there was no German [note 8] papist or monk available. Thus a priest was informed that there were very sick skippers, who desired to confess. The priest arrived but could not speak a single word with them so he said : this boy speaks Spanish very well, he should be the translator. The boy was called to see that priest, who suggested that he should be the translator during the confession of those sick skippers and he should swear and promiss that never in his life he would tell anything of what those sick would confess. The confessions took place and that boy Steven vander Hagen was translator between the father confessor and those sick skippers, most of whom died and were burried in consecrated earth which without confession would not have happened.
The boy who had made many acquaintances among the Dutch skippers thought the time had come to sail back to Holland as now he knew Spanish as good or better than his Dutch. So he spoke with a skipper from Medenblick called Cornelis ....... praying him that he would sail him back to Holland. In return he would serve him as translator in Calis. The skipper agreed. He could have sailed with other skippers, but in those ships the red flux raged too much which he feared as many persons had died from it. This plague had arrived within the ships by the very bad smell from the Portuguese which they had carried to Barbary and who had been relieving themselves in the ballast during all the time they stayed on the ship. This bad smell had caused the red flux among the crew, killing several hundred sailors and also skippers.
And the boy sailed back to Holland in the company of about 20 ships that had been loading salt near Calis [5 lines skipped mentioning a violent storm] arriving with help of the Lord in Texel in the month of October 1578.

---

Note 1: for the ancient dutch term : "linwadier"=lijnwadier? = lijnwadenier= seller of "lijnwaad" (compare with "krui-denier")
Note 2: there were many persons with the name "Garcia Davila" in Jerez during the XVIth century: the Garcia Davila who died in 1486 got 9 children of which 8 got at least one boy which they called "Garcia". Four of those married. Besides them the name "Garcia" occured in other branches of the family, although far less frequent.
I hope a Spanish reader could give more information by studying the coat of arms above the entrance, shown to the right.
Note 2: ancient name for what is nowadays Morocco and Algeria
Note 3: it is very interesting to read the very different opinion one can find about King dom Sebastian (insane, saint, last crusader, a don Quichote avant la lettre, a fanatic, a puppet in the hands of the Jesuits, etc). Anyway, he lies burried in the San Geronimo cloister near Lisbon, next to Vasco da Gama and the poet Luis de Camoens, which seems to indicate that in Portugal he is (or was) considered as a national hero.
Note 4: the transcription by Tiele mentions "heere"(=lord) in stead of "leere"(= leather) ; the game was not without danger, as is shown by the fact that Don Garcia Davila, son of Don Garcia Davila, "el Ciego" (the blind) died in november 1597 during a juego de caņas game on the "Plaza del Arenal", the main square of Jerez. (see:"Bansos en Jerez" , J.Moren de Guerra y Alonso, 1932, p.58)
Note 5: in old dutch : "romelisoen" or "rode melisoen" = buikloop.
Note 6: in old dutch, the charming word: "brabelinge" (english: balderdach) is used.
Note 7: what is meant is "nederduits"= Dutch; it should be realized that early XVIIth century "the Netherlands" could mean the Republic of 7 in the North as well as the Union of 17, covering large parts of nowadays Belgium. Also the term "Dutch" can indicate persons from the Northern as well as the Southern Netherlands and even Dutch speaking persons from the the north-western part of France.
require("engels_tellen.php") ?>