INFORMATION ABOUT DRIVING FROM DUBROVNIK TO GREECE VIA MONTENEGRO, SERBIA, KOSOVO and MACEDONIA
JOURNEY MADE ON SUNDAY MAY 16 AND MONDAY MAY 17, 2004

Conclusions:
1) there are no major problems;
2) there are nowadays 5 borders if one takes the main road !;
3) reduce one border (and 4 controls by Serbians) by driving via Pec;
4) do not drive at dark in Montenegro because of numerous holes (even) in the main roads;
5) Kosovo: verify before taking petrol whether you can indeed pay with a credit card even when logos tell you that you can.

Remark: a shorter way and with only 3 borders would be to travel via Albania. I have not done this, because I lacked information about passing through that country. I would be interested to hear from persons who have travelled that way themselves.

Details:

Montenegro:
Positive:
* the local currency is the Euro and there are a enough ATM's to refill one's purse!;
* the scenery from the road between Podgorica and Bijelo Potje is beautiful;

Negative:
* apparently a lot have to be improved with respect to the co-ordination between different government services.
Examples: 1) road repair: numerous bad spots are prepared to be filled up, but not filled up. The result can be "shocking" especially at dark and when the rains fills up those holes, as was my case.
2) there are many big beautiful, brand new signposts that tell you the existence of a XIth century church, a monastery, the former Royal city (Cetinje);
My experience: * the church was closed, there was very little to see from the outside and no further text with at least some information why this church should be visited;
* access to the monastery was impossible as the unpaved road that went there was impossible to use after a recent rain shower;
* in Cetinje itself I could not find a single sign telling me the whereabouts of the (formal) royal palace.

Warning:
* At dark, I have not been able to find the road from Kolasin to Matesevo and further on Andrijevica.
* there are many sections being improved on the main road from Podgorica to Belgrad, so the traffic might be severely delayed by these road-improvement works as soon as traffic becomes more dense.

Serbia:
To my surprise there was a real, old fashioned border between Montenegro and Serbia and between Serbia and Kosovo.

Besides that there was a police control 500 metre further and after about 10 km. one or two check points of the Serbian financial police. That is a lot for just 25 km. between the borders of Montenegro and Kosovo. And my personal experience with the Serbian police was negative: they were really decided to get some money from me. And they did.
I asked myself whether this was their way to make me understand that they did not appreciate Nato bombing of their country some 10 (?) years ago. (I forgot completely the NATO bombing during the Kosovo crises in 1999 which cost between 500 [Human Right Watch estimates] and 1.200 [minimum figure, according to the Serbians] civilian death. Maybe one should inform oneself a bit about these recent events before showing up.
By the way, can someone please translate their ticket or receipt (see below) into English, French, German or Dutch?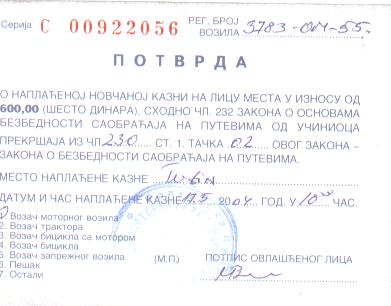 So unless you are interested to receive indirect lessons in history, I advise you to avoid Serbia altogether and go directly from Montenegro into Kosovo by taking the road to Pec. Besides the advantage of avoiding excessive Serbian border and other controls, Pec was the siege of the Serbian Patriarch and there are some orthodox churches from the XIIIth and XIVth century to been seen.
But I do not know the road condition.

Kosovo

* the local currency is the Euro; only in few places ATM's, even in Pristina;
* the main roads are up to West-european standards;
* Pristina is booming, Kosovo seems booming but personally I have not seen anything that drew my attention and made me stay;
* too many military vehicles patrolling (KFOR or so, UN, MP etc);
* Big signs with credit card logos does not mean that the credit verification machines will function. ASK before if you do not have enough cash! I had to go to Pristina (and back!) to find the nearest ATM!
* The big signs with petrol prices did not indicate the price I had to pay; anyway petrol in Greece is about the same price
.
Macedonia
or (in order not to hurt feelings of certain persons in Greece) : The Former Yugoslav Republic of Macedonia

* I travelled via Tetovo, Kicevo, Dolenci to Bitola
* Roads are o.k. except the ones that got me out of Bitola;
* I should have travelled via Ohrid, which was a former siege of the Macedonian patriarch
* It took me more than 15 minutes to pass the border control between Kosovo and Macedonian (only 3 cars before me!)
* Tetova is a lively city. with a strong east-european flavour. But 2 years ago there was fierce fighting between "Albanians" and Macedonians. Just crossing it, (slowly, slowly because of the intense traffic) in about half an hour there was nothing that showed this past.
* Bitola is a pleasant, relaxed, old-fashioned market town. Apparently nothing special to see.(It has suffered much from the 1912-13 Balkans wars, I learned later). But I had not prepared myself and so I missed completely to visit the important ruins of the ancient city called Heraklea, just besides Bitola. For more details see the excellent website www.macedonia.org

---
Websites for those who would like to know the political situation before traveling in this part of Europe:
* the International Crises Group: monitors conflicts all over the world; very well organized and easy to use;
* travel and country information from your ministry of foreign affairs such as Buza for the Dutch
It is interesting to compare their travel advise about Kosovo with my own experience as expressed on this webpage. One should of course realize that their advise might have political consequences, so they will tend to be more carefull.
---
petrol prices 15 & 17 may 2004:
Croatia: 7,24 - 7,34 HRK/liter (0,975 - 0,99 euro/liter);
Montenegro : 0,91- 0,94 euro/liter;
Serbia: 52,7 dinar/liter;(I have not been able to find out what this represents in euro)
Kosovo: 0,85 euro/liter
Grece: 0,78 - 0,83 euro/liter

---
page created July 5th, 2004
last addition: oct 10, 2004: ICG and Buza websites
reactions : roelof.van-der-hulst@wanadoo.fr
require("balkan_tellen.php") ?>